Australias big 4 banks have been asleep at the wheel for too long lately.
They've grown accustomed to earning major profits on merchant fees from so many SME's that their greed has seen them become complacent to the point of now having to play catch up.
10 years ago banks would fall over themselves to get your merchant business because it was profits on a level that they could not make in the cut throat home loan interest rate war. If they made 100 basis points on the home loan then from merchant fees they could make weekly profits on a customers business merchant fees of many times that on a monthly basis. Many times banks would package your home or business loan with having your merchant facitlies via the bank. Profit for nothing.
Until banks like Tyro and EFTPOS companies like SmartPay came out, the EFTPOS market was pretty much up to the big 4 banks in Australia with the regional banks trying to get a foothold but barriers to entry where to tough for them to make a serious play.
Now the big 4 banks, as is usually the case, have become so complacent that SME's have so much choice now for EFTPOS. With the introduction by the RBA of allowing merchants to surcharge up to the cost of acceptance then this has brought many more opportunities for EFTPOS providers to enter the market just for EFTPOS facilities alone.
The reason i write this is that after 3 years of waiting, the good old Commonwealth Bank of Australia, probably Australias largest bank making the largest of profits, has finally decided to offer its devices in a cloud infrastructure level. How nice of them to join the Cloud party after 3 years of being late to the party. Now lets see how long it will take ANZ and Westpac to join too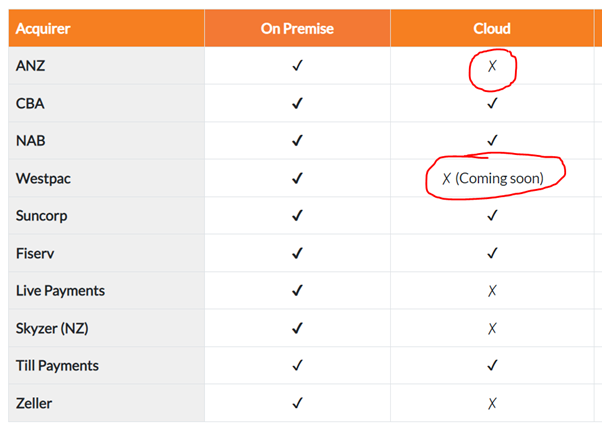 If you no longer wish to wait for the other 2 banks we have solutions that we can offer with Tyro, and if you are a customer of any of the banks with ticks in the Cloud column above we can help you with both Tyro and Till Payments EFTPOS solutions.
Dont keep patiently waiting for the banks to catch up - do whats right for your business and whats right for you not the big 4 banks.